Roddenberry Dive Team
Star Trek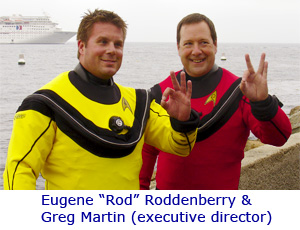 I have to admit I was a fan of Star Trek back in the seventies and eighties so it was with some surprise that Suzzy came back from DEMA and announced that we were going to partner with Rod Roddenberry who's father created the Star Trek series. Rod discovered his passion in the underwater realm and founded the Roddenberry Dive Team to promote education, exploration and stewardship of our oceans through safe diving activities.
Synergy
The mission of the Roddenberry Dive Team is almost identical to our company philosophy of giving divers such a positive diving experience that the ensuing awareness of beauty and value of the life below the surface manifest as an attitude of protective benevolence toward the oceans. As Capt. Kirk once said "... a dream that became a reality and spread throughout the [oceans] stars" (Whom Gods Destroy.)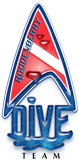 Adventure
If you have been on any of our Adventure trips you know that another aspect of our philosophy is to offer a safe way to explore the ocean beyond shallow easy dives. Rod sums up this attitude with a page out of Star Trek "I love exploring strange new worlds and seeking out new life in our ocean."
Visit the RODDENBERRY DIVE TEAM website and expand your exploration of inner space.
...... Ed