Maui Koki Hale Deluxe Suite
Home Style Living
Koki Hale Directions
116 Koki St.
Kihei, HI 96753
Download a PDF Color Brochure
Note: Right Click and "Save" this file.
Print out these directions
Located in the North end of Kihei.


Office (Mainland): 1-800-635-1273


Office (Maui): (808) 879-3584
Check in: 3:00P
Check out: 11:00A; check with office to extend if diving that day.

From Airport: follow signs to Kihei
Take the Piilani Highway (31) to Ohukai St. (Stop light with Tesoro Gas on uphill corner)
Turn right toward the ocean (down hill)
Turn 1st Left (100' from Highway) Kaiola St.
Five houses up at top of hill turn right on Koki St.
Look for 116 Koki: 1st house on left (corner.)
Office check-in: 50 Koki at bottom of hill on the left.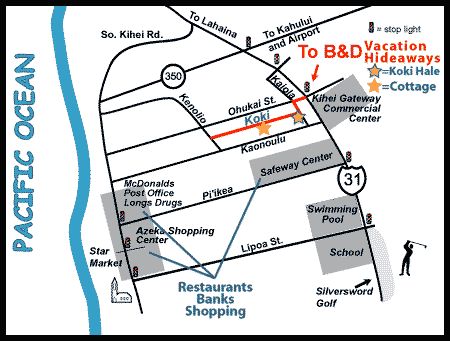 1-800-635-1273 or 808-879-3584